As I headbang to Pearl Jam, I would like to tell you about our latest release.
No, it is not a rearviewmirror, but a mirror alone; well with some lights around it (I just used a semi colon, I'm so daring) :3. The radiance mirrors are exclusive for Tres Chic: Essences of Spring round which will be from April 17th to May 10th. Lookit here
and here too: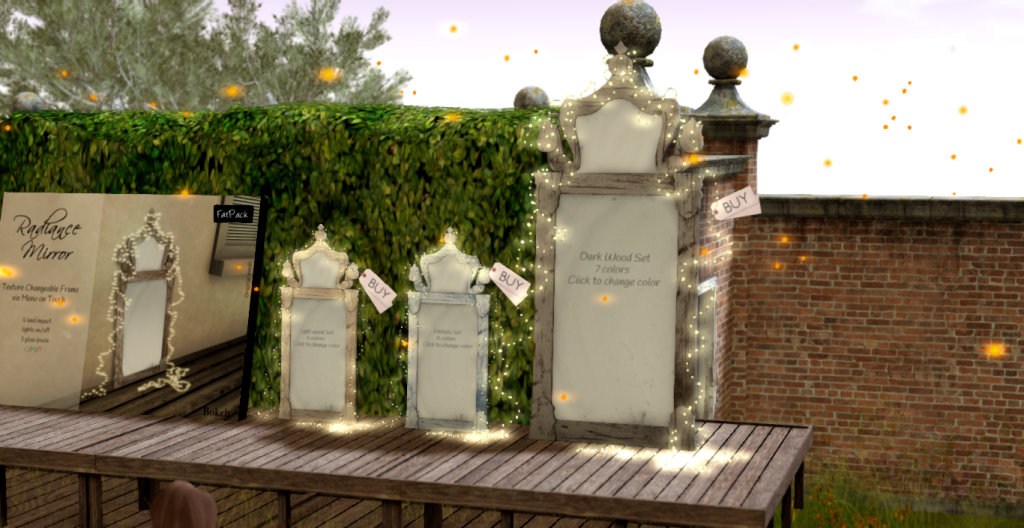 So where was I? Uhm yeah, I think I'm gonna blog every now and then, would you read my ramblings? I can hardly understand the ropes of it, but we will talk about that later I hope.
Here's a song, not the happiest song ever but who cares? I mean really. I wonder if I am allowed to curse in here… heh we'll see.

Info about them, have at it: we have three color sets: Dark wood (7 colors) – Light wood (4 colors) – Pastels (5 colors) changeable via menu on touch. The mirror stands at 5 land impact at default size, you can resize it but that would affect the land impact. You can also control the lights and level of the glow or turn them off. Click for the menu.
PAM OUT! btw my inworld name is Pamela22 Igaly in case you wanna talk to me or tell me I shouldn't be a blogger cause I suck a** 😀